Note: This feature has been temporarily disabled in version 3.4. It relied upon FTP to upload images. We've secured the Mandelbrot Explorer webserver, part of which involved removing FTP. The feature will be restored in a future version once an alternative way to images has been built in to Mandelbrot Explorer.
Here's how to turn this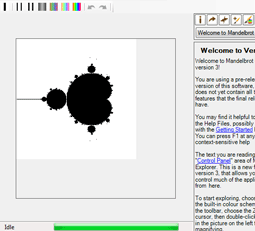 into this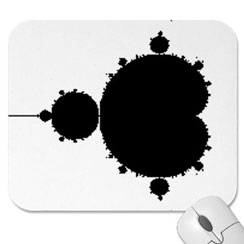 or this!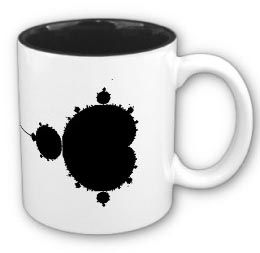 The Buy Products from Zazzle Plugin allows you to turn your fractal into a real product. Posters, t-shirts, mousepads, mugs, stickers, fridge magnets, postcards and greetings cards are all a few clicks away.

This feature is provided in association with Zazzle. Zazzle is a print-on-demand company based in America, but who operate a number of websites to allow local currencies and shipping costs elsewhere in the world. If you use Mandelbrot Explorer to order products from Zazzle, your purchase is from them (not from us), and they handle any customer service related issues.

There are two steps to ordering something from Zazzle with your design on. The first step is to upload your design to the internet. This is done by clicking on the "Upload" button on this plugin. The upload progress is shown, and you can cancel the upload at any point. Pictures are uploaded in .PNG format for maximum image quality.

Once a file has been uploaded, it is allocated a filename which is displayed as shown. Your picture will be stored online for 4 weeks. There is no charge for this service. The second step is to proceed to the Zazzle website to customise and order your product. Note that total customisation is possible. The fabric of the t-shirt, the framing and size of the print, and so on, are all under your control once you get to the Zazzle website.
There are 3 ways to view your product on Zazzle. My favourite is the third.
Choose your filename from the drop-down box (which shows all pictures uploaded in the last 4 weeks), then click on one of the links below it. By default, you are taken to Zazzle.com; you can change the Zazzle site you visit in the Options window.
Make a note of the 8-character filename, and to enter it at http://www.mandel.org.uk/order-products. If you use a different computer, or re-install Mandelbrot Explorer, you can still access your uploaded images.
Choose a filename from the drop-down box, then click on the Magnifying Glass symbol. This will take you to a separate screen (see screenshot below) where, instead of just a list of the types of product you can order, you will see a thumbnail view of each one and an indication of its price. Click on the picture, the product name or the price to proceed to Zazzle.
Note: To ensure sufficient image quality, you should always draw your fractals to at least a resolution of 100 pixels for every inch that your finished image will display. So a mousemat should be at least 600x900 pixels.